Ok--I'm going to include my clip art linky stuff on top of my original post! I'm new to being clip art obsessed, so let me share the super cute stuff they made me want more, more, more! I hope you will check out some of these awesome graphic artists!
Head over to Primary Polka Dots to see more awesome clip art!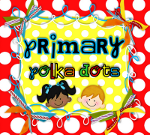 Now to Mardi Gras!
So I'm a pretty big fan of Mardi Gras. I grew up in Mobile and love traveling to New Orleans. Mardi Gras is February 12 and in honor of an awesome holiday, I created some Mardi Gras Word Problem Task Cards.
But first here's some Nola pics. I've seen a commercial filming two different times I've been there. Below is one for Capital One. I love the music and the art sold on the street! What a fantastic city!
For the task cards, I left the racy stuff out and kept it rated G for the kiddos. There are 16 word problems, ans answer sheet, and a key. If you want something to weave in with Valentine's activities, this is great for you!
Click the pic to check it out!